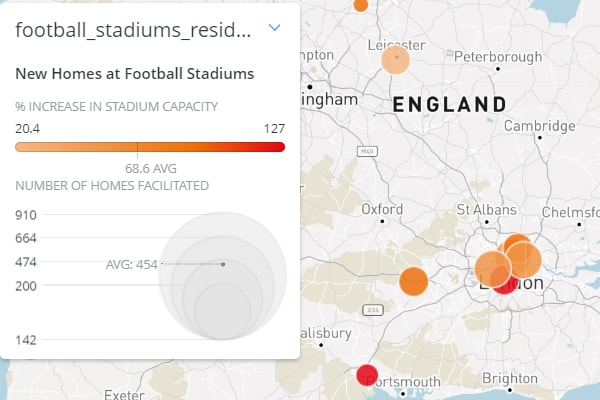 Football's Coming Home
Providing much needed housing for London and the UK
LONDON, 13 June, 2018 — Football clubs in England and Wales have provided a significant contribution towards the UK Government's goal of boosting housing supply.
As England prepares for World Cup 2018, JLL analysis of major stadium developments over the past 20 years shows that 15 professional football clubs have collectively enabled the delivery of nearly 7,000 new homes, as well as boosting their stadium capacities by an average of 63%.
Five London clubs – Arsenal, Tottenham Hotspur, Brentford, AFC Wimbledon and West Ham United – account for 3,600 new homes, equivalent to around a fifth of the Capital's annual new housing delivery.
The UK Government has set a national target to deliver 300,000 new homes per year in order to meet the accommodation needs of a rapidly growing population.
The trend of converting old football grounds into housing started back in the 1990s when the Taylor Report into the Hillsborough disaster recommended that stadiums become seating-only venues, thereby reducing their capacity. This coincided with the launch of the Premier League in 1992, which spurred lucrative satellite TV deals that increased football clubs' wealth.
Several clubs, including Arsenal, Middlesbrough, Sunderland and Southampton, have now moved to bigger grounds, thus freeing up their old stadiums to become housing developments.
In London, top clubs have favoured building new stadiums with large numbers of new-build flats included in their overall development plans. Tottenham Hotspur's 62,000-seater stadium in White Hart Lane will have 585 on-site flats when it is completed later this year, while AFC Wimbledon's new stadium in South West London will include 602 homes.
JLL Research Director Nick Whitten says: "Most football stadiums are located in urban areas where building new housing is the number one priority.
"Football clubs are a very important part of the local community where they are located. In supporting the delivery of new homes, they are helping to grow those communities.
"The need for new housing in the UK will continue to influence stadium developments. The majority of clubs that needed to expand have already done so, but there are still clubs who are planning to build modern fit-for-purpose stadiums, such as Chelsea and Everton.
"The drive for more housing looks set to remain so football clubs have an opportunity to work with local authorities and local communities to provide new homes to help alleviate the UK's housing crisis."