First Homes vs Help to Buy: which prices in more people?
Only around 10% of full time workers in London can theoretically afford to buy one of the Government's proposed new First Homes, new JLL research shows.
JLL analysis of full time individual salaries found only a little over 200,000 individuals could afford to buy an average priced London home even after applying the 30% First Homes discount. Outside of London, however, First Homes as they are currently proposed may prove more effective.
First Homes is a proposed new discount home ownership scheme which would allow key workers such as nurses, teachers and emergency services workers to purchase a home at a minimum discount of 30% to its open market value.
JLL calculated that aspiring purchasers wishing to use the First Homes scheme to buy a home at the current London average house price of £479,000 would need a salary of £71,000 pa even after the 30% market discount. This calculation includes the aspiring buyer's 5% deposit and is based on a mortgage being secured at the UK lending borrowing cap of 4.5 times annual salary.
The Annual Survey of Hours and Earnings (ASHE) shows data on 2 million salaries in full time employment in London. It reveals that only the top 10% of that pool of full-time employees in the Capital or circa 200,000 individuals earn in excess of £71,000 pa.
In contrast, around 14% of London's full-time employees could afford to buy an average priced London home if they used Help to Buy, theoretically pricing in an additional 85,000 potential individual buyers.
However, outside London it is a different story. Around 40% of UK full time employees could afford to buy the current average priced UK home of £233,000 using First Homes compared with 30% using Help to Buy.
It is likely that the Government eyes First Homes as the successor to Help to Buy which is scheduled to be withdrawn from April 2023. As it is currently proposed, First Homes do not offer an improvement on Help to Buy in London. Despite being set out as a scheme to help key workers, among others, get on the housing ladder, £71,000 pa is a prohibitively high barrier to entry for most. Key workers are highly unlikely to constitute a significant part of the 10% of the working population earning sufficiently high salaries.
One significant positive of First Homes as a Government backed discount home ownership product is that the discount remains in perpetuity. This means it will remain an affordable home ownership product for generations to come. In contrast, Help to Buy subsidises individual buyers with no future buyers benefiting from the Government equity loan.
It is possible that the Government may conclude that greater discounts need to be applied in some parts of country compared with others – just as with Help to Buy where loans can be larger in London. Ultimately this may become necessary for First Homes to prove successful in the Capital, given that the median salary to house price ratio is almost twice as high as the rest of the UK (13 versus 8).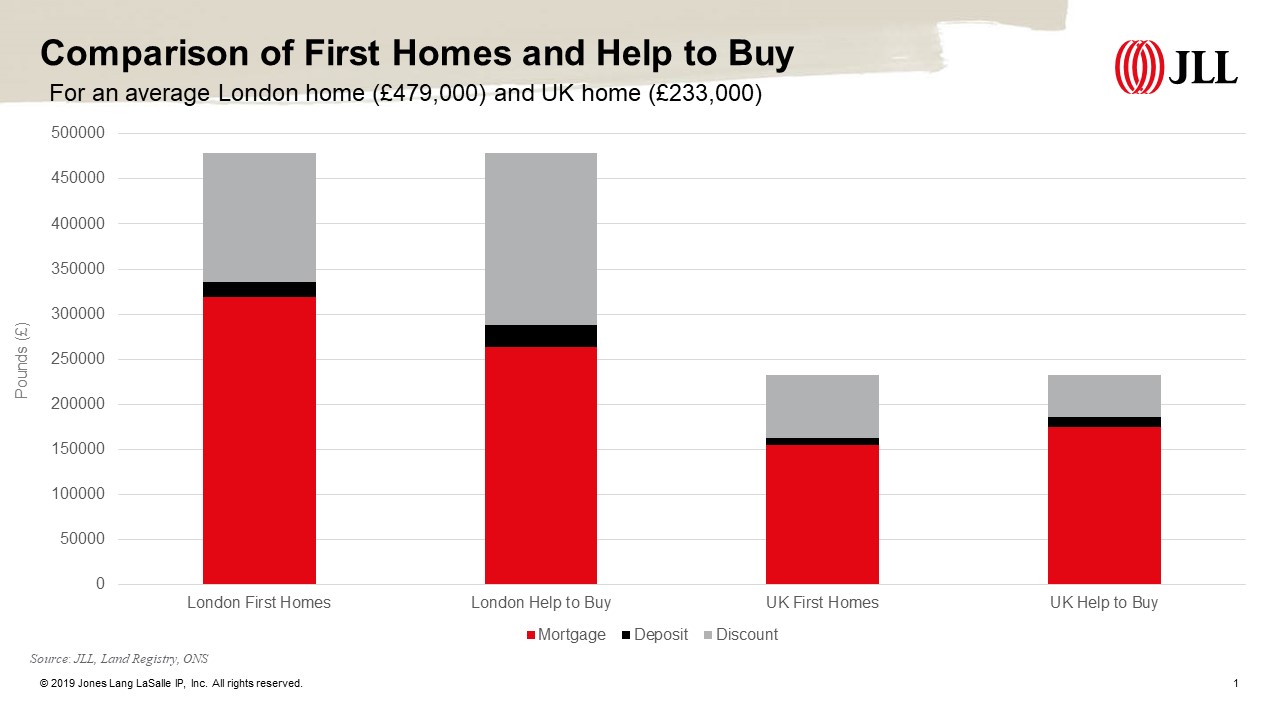 Veronica Spanos McGill
Research Analyst