What rising energy costs mean for UK homes
Rising household bills put energy efficiency far higher on occupiers list of must haves for their next home. Could the new homes industry benefit and attract a new wave of buyers and tenants seeking out more energy efficient options?
Director of UK Residential Research at JLL, Marcus Dixon, explains: "Increasing the energy price cap on 1 April could see bills for the average band G home hit almost £5,000 a year, up £145 per month on current rates. More efficient homes don't escape the price rises either, albeit those paying energy bills for homes in bands A to C will be on average £3,246 a year better off than their neighbours in a band G home."
"New homes are already blazing the eco trail, with more than 4 in every 5 new homes built now in the top two EPC bands, compared with less than 1 in 20 existing properties. We must also push forward with retrofitting existing stock, although this remains a complex, costly, and lengthy endeavour. But there is an opportunity here for the new homes industry, offering best in class efficiency and tapping into demand from households who not only want to do their best for the climate, but also save themselves money too."
Rising energy costs push buyers towards more efficient homes
Inflation hit a 30 year high in February, with the Consumer Price Index (CPI) recording an annual increase of 6.2%, up from 5.5% in January. Monthly figures show a 0.8% increase, the largest CPI rise between January and February since 2009. Food, fuel, and energy costs are the key drivers behind these rises as the squeeze on household incomes continues.
In his Spring statement on 23 March, the Chancellor announced that fuel duty will be reduced by 5 pence per litre until March 2023. But household energy bills still look set to soar, as the price cap, which limits the maximum amount suppliers can charge for each unit of electricity and gas, will rise at the end of March.
JLL Research have looked at average household energy bills for homes with EPC ratings from the most efficient (A) to the least (G).
Implications of the lifting of the price cap by EPC band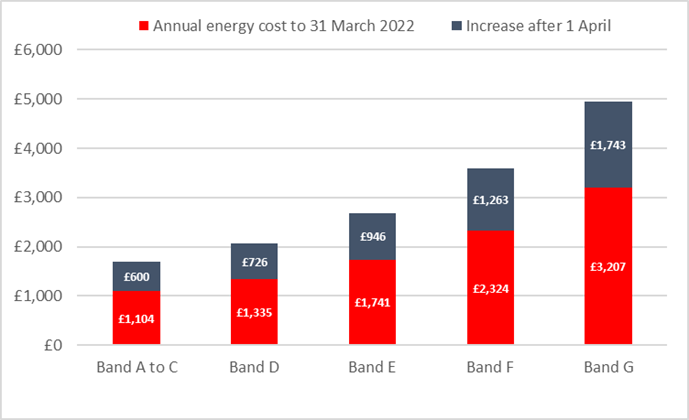 Source: JLL Research/ ONS
On average, the lifting of the price cap could mean households paying upwards of 54% more on their energy bills from 1 April. Even more efficient homes in band A to C could see an annual increase of £600 per annum. Homes in band G, the least efficient, seeing bills rise from £3,207 to £4,950, £1,743 more per annum.
Improving the energy efficiency of your home could help, with households in Band G seeing a saving of £1,362 per annum if they improved their home by just one band, or a saving of £2,888 if they manage to gain a band D rating on a band G property.
Lessons from the motor industry?
With the price of fuel at the pumps up 22.4% in the last 12 months, more buyers are choosing electric vehicles. The SMMT report electric vehicles (BEV) accounted for 17.7% of vehicles sold in February 2022, more than double the market share a year ago of 6.9%.
With consumers becoming more environmentally aware and energy cost spiralling, many will be looking more closely at their homes too. Research from the Home Builders Federation (HBF) suggests occupiers are becoming more aware of energy consumption and efficiency of their homes. In their most recent survey, the HBF state that 3 in 4 people are worried about their home's energy performance, with 1 in 4 respondents citing energy efficiency will be a crucial factor in their next home move.
One approach is decarbonising their existing home, however costs for retrofitting existing buildings are far higher than incorporating these features into a new build property, even after the VAT rate on installing energy efficiency measures was cut in the Spring statement from 5% to 0%. A report by the Climate Change Committee suggesting the cost of building a highly efficient new build home adds an additional £5,000 to build cost, whereas the bill for retrofitting an existing home would be almost five times more at £23,000.
This surely means the appeal of new build homes will increase. In 2021, 84% of new build homes achieved an A or B rating in their EPC compared with just 4% of existing properties.
About JLL | March 2022
JLL is a leading global professional services firm specialising in real estate and investment management, with $16.6bn annual revenue in 2020, operations in over 80 countries and a global workforce of over 90,000. With over 7,000 employees and 15 offices in the UK, we support our investor, developer and occupier clients at every stage of the property lifecycle across both commercial and residential asset classes. This includes land purchase, access to capital, planning, development advisory, leasing, building management and sales.
JLL's Residential and Living team consists of over 300 professionals who provide a comprehensive end-to-end service across all residential property types, including social housing, private residential, build to rent, co-living, later living, healthcare and student housing.
Disclaimer: © 2022 Jones Lang LaSalle IP, Inc. All rights reserved.
Data within this report is based on material/sources that are deemed to be reliable and has not been independently verified by JLL. JLL makes no representations or warranties as to the accuracy, completeness or suitability of the whole or any part of the report which has been produced solely as a general guide and does not constitute advice. No part of this publication may be reproduced or transmitted in any form or by any means without prior written consent of JLL. JLL, its officers, employees shall not be liable for any loss, liability, damage or expense arising directly or indirectly from any use or disclosure of or reliance on such report. JLL reserves the right to pursue criminal and civil action for any unauthorized use, distribution or breach of such intellectual property.