Are buyers waking up to the benefits of a more environmentally friendly home?
JLL's latest Living Priorities Survey.
What we want from our homes is constantly evolving. Both the pandemic and rising energy costs means households are again re-evaluating their priorities.
To better understand what buyers want in today's market, and how this might change in the future, we contacted potential buyers registered with JLL to hear their thoughts.
Electric cars – a lesson for the housing market?

Within a short space of time, we have seen a rapid shift in motorists' willingness to adopt electric vehicles in a bid to lower their environmental impact. Could we see this positive approach to environmental sustainability feed through into our homes?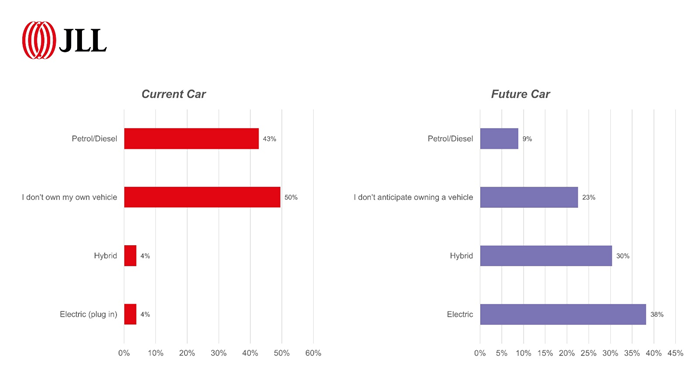 New JLL research from our latest Living Priorities survey, explores the change in the proportion of people who expect to be driving an electric or hybrid vehicle in the future. At present, just 8% of respondents drive an electric or hybrid car, versus 43% petrol or diesel. However, when asked about their next vehicle the survey results show a greater appetite for electric vehicles, with almost 70% expecting to drive an electric or hybrid car in the future, versus just 9% for petrol or diesel.
What's driving the push towards more energy efficiency homes?
For most, our homes will be the largest investment we make in our lives. Our survey has found that a larger number of people are now placing even more importance on the environmental impact of their home. Undeniably, reducing the running costs of a home is the key motivator for most, however many people are also increasingly aware that there is a desire to become more socially responsible. Almost two thirds of our respondents said that achieving a lower carbon footprint was important to them.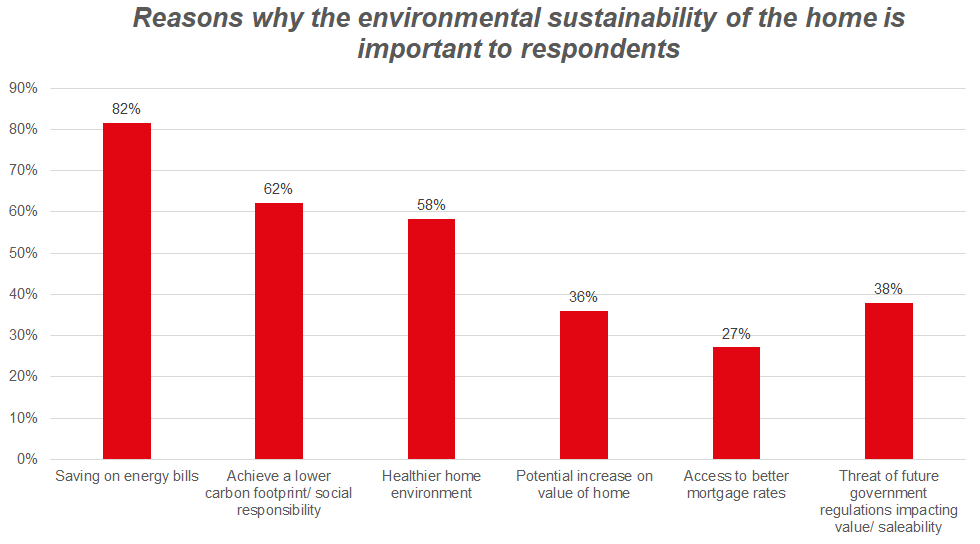 70% of respondents viewed the energy efficiency and running costs of their home as more important now versus pre-pandemic. Back in April, we explored what the rising energy costs meant for UK homes. JLL research found that the lifting of the energy price cap could result in the average band G home experiencing an increase in bills of over £1,700 per annum, an extra £3,246 more per annum than the average home in bands A-C. It is therefore unsurprising perhaps, that 82% of respondents voted a 'saving on energy bills' as the reason why the environmental sustainability of their home is important to them.
Are purchasers willing to pay more?
Over half of respondents (57%) would be prepared to pay a premium for a more environmentally friendly home. Of those who said 'yes', half would pay just up to 5%. In total, 83% of those who would pay a premium, would be prepared to pay up to 10% more for an environmentally friendly home.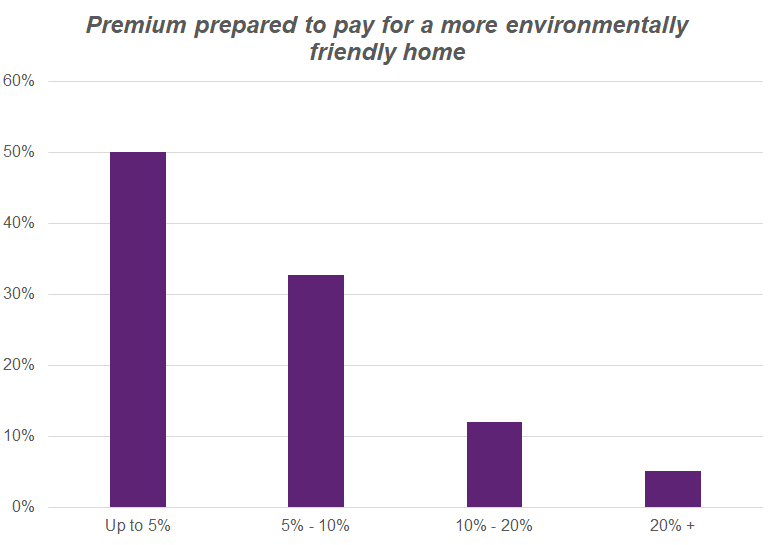 So, what does this mean for our homes in the future, particularly the new homes sector?
Rising energy costs have undoubtedly pushed energy efficiency up the list of importance for homeowners. But whether they are driven purely by costs, social responsibility or likely a combination of both, what is clear is that buyers will be taking energy consumption into consideration more, when looking for homes in the future.
80% of our respondents said that the environmental impact of their home will be either crucial or important in their next move, with the number of people willing to purchase a new home, if it meant improved environmental efficiency, rising from 51% from their last move, to 78% going forward.
With purchasers becoming more environmentally aware and the potential for more sustainable homes to command a premium, the new homes market should be well placed to benefit. Analysis of EPC ratings for UK homes shows 83% of new build properties boast an EPC rating of A or B, versus just 3% for existing stock.
The JLL Living Priority Survey 2022 was conducted in May 2022 with a total of 104 respondents.

Disclaimer: © 2022 Jones Lang LaSalle IP, Inc. All rights reserved.
Data within this report is based on material/sources that are deemed to be reliable and has not been independently verified by JLL. JLL makes no representations or warranties as to the accuracy, completeness or suitability of the whole or any part of the report which has been produced solely as a general guide and does not constitute advice. No part of this publication may be reproduced or transmitted in any form or by any means without prior written consent of JLL. JLL, its officers, employees shall not be liable for any loss, liability, damage or expense arising directly or indirectly from any use or disclosure of or reliance on such report. JLL reserves the right to pursue criminal and civil action for any unauthorized use, distribution or breach of such intellectual property.