Home working during lockdown across Europe
In the second of two blogs based on our JLL employee survey, we interrogate shifting work from home patterns under lockdown and how they influence people's perceptions of the home. Drawing on all the data, we demonstrate there are significant similarities in the experiences and expectations of distinct socio-demographic cohorts across Europe.
Home working during European lockdowns
In the previous blog, we identified shifting preferences on home location and priorities within the home itself. Many of these have been stimulated by much more time spent at home under 'shelter in place' orders, as economic activity has drastically shifted from offices to residential units.
This blog unpicks the changing nature of peoples' experiences and expectations for working from home, and leads onto identifying the similarities different socio-demographic cohorts exhibit across the whole European sample, including wider changes in home preferences in light of Covid-19.
Working from home
Covid-19 has triggered a widespread temporary shift to homeworking. Government guidance across the continent almost unilaterally was to work from home wherever possible. Time spent at work fell, compared to normal, between 83 and 90% during its nadir under lockdown, according to Google Trends.
69% of survey respondents worked infrequently (less than once a week or never) before Covid-19, but being forced to work from home for a prolonged period has changed perceptions and expectations moving forward. In a post-Covid-19 world, our respondents want to work from home more, with the most common preference (53%) being 1-2 days per week. The below chart shows that the majority of flows are moderate changes to habits. For example, those who never work from home are now mostly wanting to work once or twice a week, rather than all the time. Indeed, the same proportion (7%) of respondents are looking to work from home full-time.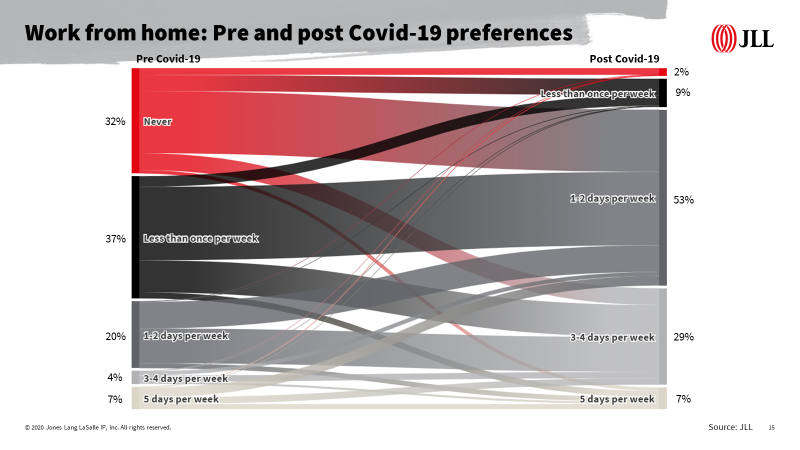 It is worth noting that changing work from home preferences does not necessarily correlate with lower overall office space demand. The equation is much more complicated than this, as discussed in JLL's 'The Future of Global Office Demand' paper, and includes factors relating to office design and commuting patterns, as well as technological influences.
Most of the changes from our survey are minimal, and are likely to soften as people return to work and realise the benefits that personal interactions can have on productivity and collaboration in particular. Indeed, four months on from the first lockdowns, we are starting to a see a significant return of workers to their offices, albeit at limited capacity for now. As discussed in the earlier blog, people are looking to recreate the professional working environment at home, with second screens, office chairs, spare rooms and so on, meaning they value quality set ups. Indeed, there are many aspects of office life that simply cannot be replicated in a permanent work from home situation. There are many other factors at play as we look to the future across Europe: societal customs across the continent, ability for individuals to balance work and home lives, and ultimately employer rules and receptiveness this change.
One of the interesting elements to this is the differences between age groups across our sample. Younger cohorts were significantly less likely to regularly work from home, with only 24% of 18-34s working from home once a week or more. The pandemic has significantly disrupted this trend, with all age groups relatively equally likely to want to work from home once or twice per week.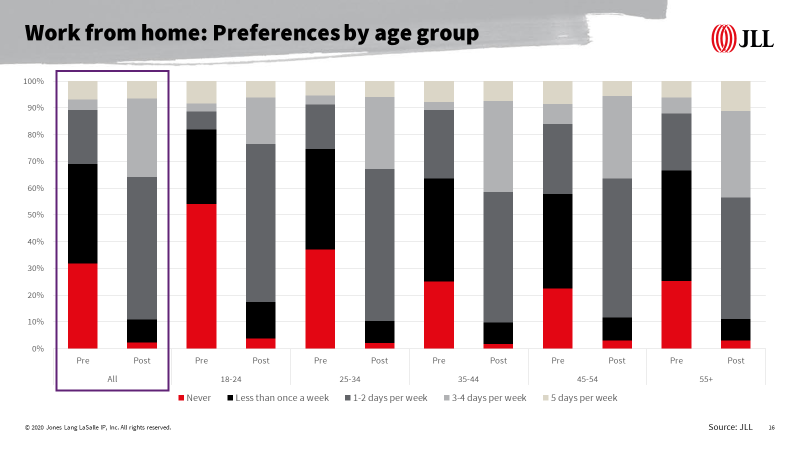 Towards a cohort classification
One of the most striking things about the survey results is how similar experiences have been, and the strong similarities of preference for those at different life stages. Drawing on themes from both blogs, the below graphic tries to identify different socio-demographic cohorts and their headline results from the survey. We can recognise the groups most likely to look to move, where their preference would be, what they want out of a home. The changing intention around home working is also notable different, perhaps showing the demographics the offices of the future should be more targeted towards.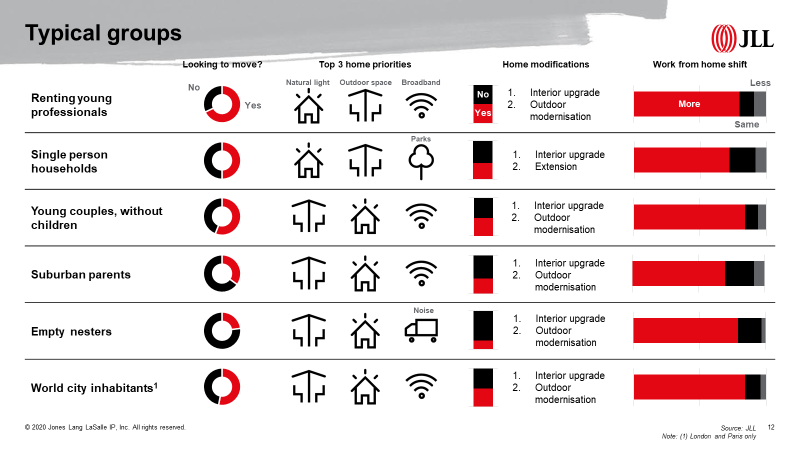 Temporary or permanent?
The survey was conducted while much of Europe's population was in the deepest throngs of lockdown and is therefore likely that results reflect a bias for immediate concerns. As the continent's lockdowns ease and a semblance of normality emerges, it is possible that some views will soften, but other preferences will endure.
We are looking to re-run the survey in the autumn to understand the permanency of these views – how far away is the 'new normal' from past expectations?
Click
here
to read our latest COVID-19 insights.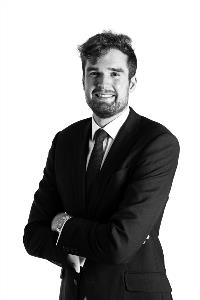 Tom Colthorpe
Senior Analyst