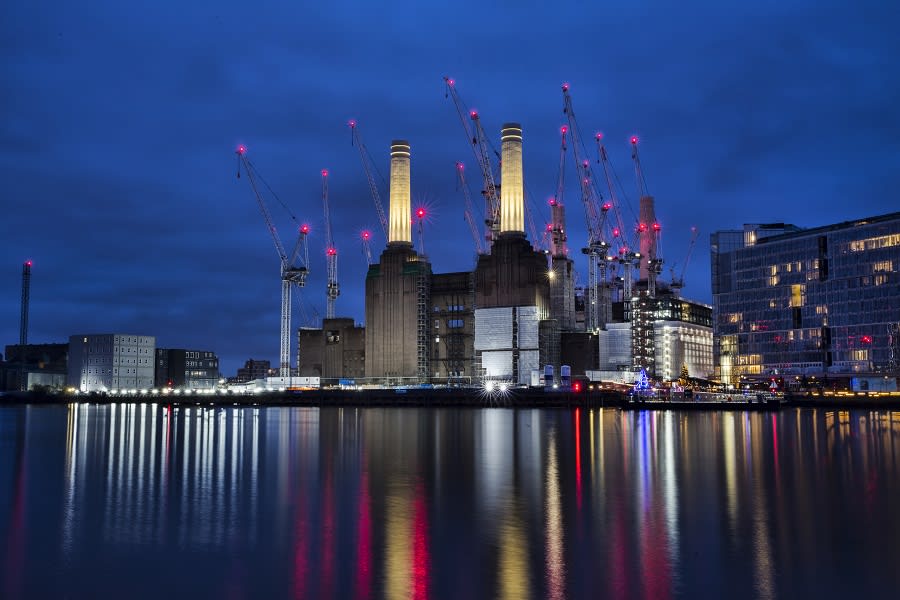 London Neighbourhood Watch: Nine Elms
On the South Bank of the river Thames, between Battersea and Vauxhall, Nine Elms is transforming from a formerly industrial area into thriving residential community. This vibrant area is a result of a £15 billion regeneration scheme spanning 561 acres. Since the US embassy announced its move from Mayfair, this Zone 1 south London neighbourhood has remained firmly in the property spotlight.
With the development of the iconic Battersea Power Station and other new schemes such as Riverlight Quay, Lexington Gardens, Prince of Wales Drive and Embassy Gardens, Nine Elms is now home to some of London's most prestigious apartments. With Battersea Power Station as the focal point of this urban regeneration project, the likes of architects Frank Gehry, Norman Foster, Michaelis Boyd have been attracted to the neighbourhood, designing sinuous metal towers and stunning infinity pools. Alex Finch, Director of Residential Development comments that "For both investors and owner-occupiers, names like this attached to any development are a unique selling point. Nine Elms has transformed from its industrial past and is fast becoming a thriving neighbourhood as residents and businesses take occupation starting to create a community. I am looking forward to seeing how the plans for new green spaces, walkways and public squares take shape as the regeneration continues, linking the individual developments together and attracting new interest in this rapidly changing location".
As part and parcel of this regeneration Nine Elms will soon witness the arrival of new health facilities, schools and green spaces. Inspired by New York's High Line, Linear Park will run from Battersea Power Station to Vauxhall Bridge and feature a new pedestrian and cycle path. Plans are also in place for the creation of the New Thames Bridge which will link Nine Elms with Pimlico, improving pedestrian access to Westminster. The Northern line tube extension from Kennington to Nine Elms and Battersea Power station (set to complete in 2021) will ensure speedy connectivity to central London. Once complete, TFL anticipates that journeys to the West End and City, in some cases, will take less than 15 minutes.
In addition to the appearance of new green spaces, the nearby Battersea Park comprises of 200 acres of green space with views over the Thames and is home to the lakeside Pump House Gallery and Children's Zoo with residents including lemurs, meerkats and pygmy goats. Exhausted parents can take refuge at the Pear Tree Café, which serves up pancakes and turmeric lattes. Choose from a selection of good schools in the area, including Newton Preparatory School, Heathbrook Primary School and St George's CoE Primary School (rated outstanding by Ofsted).
Nine Elms is currently establishing itself as an exciting food culture destination. Restaurants and bars in Nine Elms are plentiful, including Vagabond wine bar, London seafood experts Wright Brothers, Francesco Mazzei's Fiume, and Mother whose trademark sourdough pizzas and Scandinavian simplicity are a winning combination. Every Saturday Battersea Power station's new River Walk Market brings independent food producers and live musicians to Circus West Village. The recent opening of the 'The Food Exchange', a co-working hub for food start-ups within the New Covent Garden Market, will witness the most sought-after chefs, food entrepreneurs and innovators host regular exhibitions, talks, tastings and supper clubs, contributing to the area's food scene.
"Prices in the Nine Elms area are expected to rise strongly if a positive Brexit resolution can be reached later this year" according to Research Director Neil Chegwidden. He adds "Price growth and rental growth will be further boosted when the two new Northern Line stations open. With more than 7,000 units in the planning pipeline, and the area has further to evolve and grow over the next decade and its vibrancy will escalate further, leading to even greater residential demand from owner-occupiers, investors and renters.'

Dan Turner, Nine Elms Lettings manager explains that from a rental perspective Nine Elms is proving popular with "young professionals who appreciate a quick commute and the nightlife in nearby Clapham and Brixton." With the move of Apple and other major international organisations, Nine Elms faces the prospect of an arrival of corporate tenants too, "For landlords, corporate tenants are a safe option as non-payment of rent is unlikely" comments Dan Turner. "The core lettings market here ranges from £450/pw to £700/pw, with many listed homes located in key developments including The Residence, Riverlight and Prince of Wales Drive." Kyle Spence, Sales Director, comments "Properties in Nine Elms are becoming increasingly popular as the area develops. Instead of national developers such as Berkeley, Taylor Wimpey and Bellway all offering different propositions in the area, the appeal of Nine Elms is far-reaching as they satisfy all demographics for both domestic and overseas investors."