Extending Right to Buy - June 2022
In his Blackpool speech on 9 June the Prime Minister announced new initiatives to ease access to home ownership. There will be a government review of the mortgage market, due to report back this autumn, with a clear goal of increasing the availability of higher loan to value mortgages, at 95% or more. Plans are also afoot to provide additional support to leaseholders in purchasing their freeholds as well as extending Right to Buy.
In their 2015 manifesto the government included a commitment to extend Right to Buy to Housing Association tenants. Seven years on it has been announced that the scheme will be extended, set to cover all social housing tenants including Housing Associations. Some Housing Association tenants were already eligible, but the extension of the scheme will now allow access to Right to Buy to 2.5 million more households across England.
Since its inception in 1980 Right to Buy has been contentious. For those in the position to take advantage of the scheme it has enabled more than two million households to get onto the housing ladder. But money raised was in many cases not re-invested, meaning fewer social rented homes, longer waiting lists and greater reliance on landlords within the private rented sector.
Critics of Right to Buy argue that it has been a key contributor to the reduction of social housing provision. There remains an acute shortage of social rented homes, 1.1 million households on the social housing waiting list and many stuck in unsuitable or temporary accommodation.
This can be clearly demonstrated by comparing the number of social housing completions with Right to Buy sales. Since 1980 across England there have been 1.19 million new homes completed by Local Authorities and Housing Associations combined. Over the same period the number of Right to Buy sales totalled 2.19 million. This means that in the last 40 years there has been a shortfall of almost 1 million homes (994,000). Although government were quick to reassure critics that homes sold through the new scheme would be replaced one for one, albeit not retrospectively.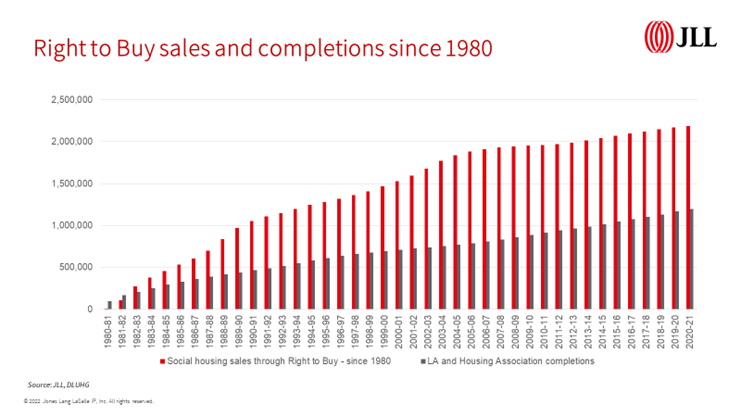 Who pays?
Part of the rationale behind Right to Buy is that tenants are offered discounts on the market value of the property. In a government pilot of voluntary Right to Buy sales between 2018 and 2020 it was estimated that 80% of tenants who bought through the scheme would have been unable to buy without the discount being in place. With the same pilot showing tenants bought with an average discount of 46% off market value.
It is unlikely that Housing Associations will be able to offer sufficient discounts and replace stock like for like without government support. Even without Right to Buy Housing Associations are under significant financial pressure. Alongside investment to improve their current portfolio they will need to ensure any remediation works are carried out to deal with cladding and fire safety as well as initiate plans to hit zero carbon targets by 2050. Not to mention additional investment in increasing the size of their rental portfolio.
At JLL we are committed to promoting the delivery of more homes across all tenures. Offering greater access to home ownership certainly shouldn't be discouraged, but the UK needs improved delivery and funding of affordable homes for rent too.
About JLL | June 2022
JLL is a leading global professional services firm specialising in real estate and investment management, with $16.6bn annual revenue in 2020, operations in over 80 countries and a global workforce of over 90,000. With over 7,000 employees and 15 offices in the UK, we support our investor, developer and occupier clients at every stage of the property lifecycle across both commercial and residential asset classes. This includes land purchase, access to capital, planning, development advisory, leasing, building management and sales.
JLL's Residential and Living team consists of over 300 professionals who provide a comprehensive end-to-end service across all residential property types, including social housing, private residential, build to rent, co-living, later living, healthcare and student housing.
Disclaimer: © 2022 Jones Lang LaSalle IP, Inc. All rights reserved.
Data within this report is based on material/sources that are deemed to be reliable and has not been independently verified by JLL. JLL makes no representations or warranties as to the accuracy, completeness or suitability of the whole or any part of the report which has been produced solely as a general guide and does not constitute advice. No part of this publication may be reproduced or transmitted in any form or by any means without prior written consent of JLL. JLL, its officers, employees shall not be liable for any loss, liability, damage or expense arising directly or indirectly from any use or disclosure of or reliance on such report. JLL reserves the right to pursue criminal and civil action for any unauthorized use, distribution or breach of such intellectual property.