Prime Central London – Q2 2022
Rental growth is outpacing prices again in Q2 2022, with annual growth in rents of 14.4% in prime central London (PCL). The sales market saw lower growth in prices, up 1.4% annually. But with more potential buyers coming forward could we see a change in the fortunes of the sales market in the coming months?
Interest from prospective buyers for prime central London homes increased this quarter, JLL recording the highest number of new PCL applicants registering in Q2 2022 since pre-pandemic, up by 63% on Q2 2021. Yet this increased demand has yet to impact prices, which remain little changed this quarter, with marginal falls on Q1 and increases of 1.4% compared with the same point a year ago.
But we remain optimistic regarding the prospects for price growth in the second half of the year. Buyers in Prime Central London are less exposed to increases in living costs and interest rate rises which we anticipate will hamper growth prospects in the mainstream housing market over the coming months. And if overseas buyers return this summer as expected, alongside applicants taking the plunge to buy, we could see prices rise too.
The PCL lettings market continues to see rents increase, as prospective tenants outnumber available properties. Rents rose 2% this quarter and are up 14% annually. But applicant levels are settling, with 15% fewer prospective tenants registering in Q2 this year compared with last, meaning we could see more balance between supply and demand across the PCL market in the coming months.
Prime Central London sales market
A year ago, the second quarter of 2021 saw sales activity across prime central London reach record highs. Buyers were looking to complete on deals and take advantage of the £15,000 saving available in the first phase of the Stamp Duty Land Tax holiday which ended on 30 June.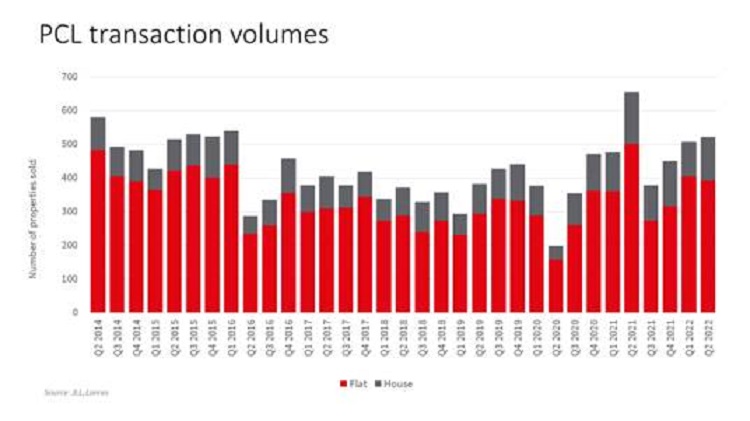 With no incentives in place this year we did not expect activity would rival the 2021 highs. But despite a 21% annual fall the number of properties sold in Q2 2022 sales were up 3% on Q1 2022. And if we exclude 2021, Q2 2022 saw the highest second quarter transaction volumes since Q2 2015. Compared with Q1 2022 we saw more houses transact, with 25% more sold in Q2 2022. Over the same period the number of flats sold fell 3%.

The JLL Prime Central London Sales Index shows prices in Q2 2022 increased by 1.4% annually, following a 3.3% annual increase in Q1 2022. Albeit registering a modest quarterly fall, values down 0.4% on Q1 2022. But prices remain 4.3% higher than they were pre-pandemic in Q1 2020.
Houses continue to outperform flats. Small houses with up to three bedrooms saw the highest annual increase, with prices rising 4.4% annually. Larger houses with four or more bedrooms saw prices increase 3.1% over the same period. Flat prices saw lower growth in Q2 2022, with small flats up to two bedrooms and large flats with three or more bedrooms both recording annual increases of 0.8% compared with the same period a year earlier.
Stock levels have risen too, with the number of properties on the market at the end of Q2 2022 higher than at the end of the previous three quarters, 10% up on volumes at the end of Q1 and back to levels last seen a year ago in Q2 2021.
Looking ahead activity looks set to increase. The number of applicants registering with JLL PCL offices in Q2 2022 rose 63% compared with 2021 and was 33% higher than 2019 levels. We are seeing an increase in applicants willing to spend more on their prime central London property too. Over half (54%) of applicants registering for homes in Q2 2022 had budgets which would stretch to more than £2 million, compared with 35% of prospective buyers in Q2 2021.
Prime Central London lettings market
A year ago, rents were starting to recover. With high stock levels and lower demand which had plagued the PCL lettings market easing as restrictions were lifted.
Indeed, we quickly saw a shift in the supply and demand dynamic. This year a shallow pool of available stock and rising demand from tenants returning to the capital has continued to drive rents up across prime central London. With agents reporting supply of smaller one- and two-bedroom flats remains particularly constrained.
Rents rose 2.0% in Q2 2022 compared with the previous quarter. This resulted in the JLL Prime Central London Lettings Index recording a 14.4% annual increase in achieved rents. Rents in Q2 2022 now 5.1% higher than they were pre-pandemic in Q1 2020.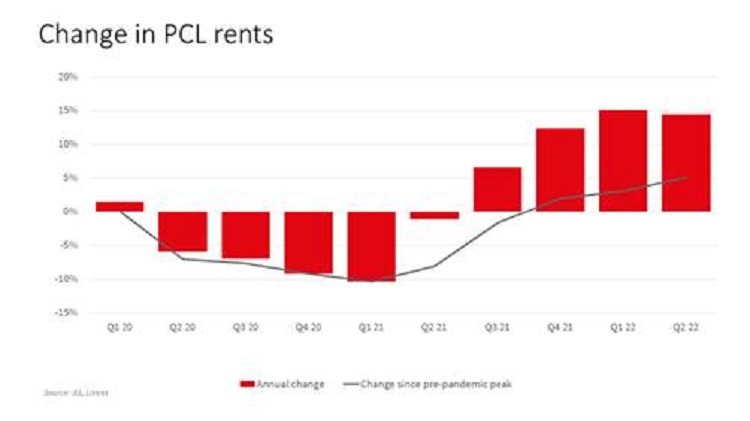 Rental values continue to increase across all price brackets, although the highest growth is still being recorded for properties commanding lower average rental values. Properties with rental values under £1,000 per week have increased in value by 15.9% while those with rental values over £3,000 per week increased by 5.6%.
The number of new lets rose in Q2 2022 compared with Q1, up 15%. Yet volumes continue to lag long run averages. Lack of stock means competition remains strong for new stock, so we continue to see higher than normal levels of renewals as tenants are reluctant to re-enter the market. The number of properties let down 42% on Q2 2021, with lettings in the year to Q2 2022 now at their lowest level since Q3 2020 (which includes periods of lockdown).
Looking ahead there are signs that supply constraints experienced in the last nine months may be starting to ease. Levels of new supply rose again this quarter compared with Q1 2022 but are still far lower than we would expect at this point in the year. The number of properties available to let at the end of Q2 2022 17% higher than Q1 2022 but still 57% down on Q2 2021.
New applicants have also fallen back in Q2 2022, with 15% fewer registrations across JLL PCL offices compared with Q2 2021 suggesting we could begin to see supply and demand become more balanced as we move into the second half of the year.
About JLL
JLL is a leading global professional services firm specialising in real estate and investment management, with $16.6bn annual revenue in 2020, operations in over 80 countries and a global workforce of over 90,000. With over 7,000 employees and 15 offices in the UK, we support our investor, developer and occupier clients at every stage of the property lifecycle across both commercial and residential asset classes. This includes land purchase, access to capital, planning, development advisory, leasing, building management and sales.
JLL's Residential and Living team consists of over 300 professionals who provide a comprehensive end-to-end service across all residential property types, including social housing, private residential, build to rent, co-living, later living, healthcare and student housing.
Disclaimer: © 2022 Jones Lang LaSalle IP, Inc. All rights reserved.
Data within this report is based on material/sources that are deemed to be reliable and has not been independently verified by JLL. JLL makes no representations or warranties as to the accuracy, completeness or suitability of the whole or any part of the report which has been produced solely as a general guide and does not constitute advice. No part of this publication may be reproduced or transmitted in any form or by any means without prior written consent of JLL. JLL, its officers, employees shall not be liable for any loss, liability, damage or expense arising directly or indirectly from any use or disclosure of or reliance on such report. JLL reserves the right to pursue criminal and civil action for any unauthorized use, distribution or breach of such intellectual property.